Buy from Amazon from our link and a portion of the sale will go to RFKM!
Can your child eat the recommended 5 servings of fruits and vegetables for 5 days in a row? Ask your PTA to partner with RFKM in the 5 for 5 Challenge!
Challenge students and their families at your school to see if they can eat 5 servings of fruits and vegetables every day for a school week for a $5/serving sponsorship. Invite family and friends to sponsor servings, and help meet your healthy eating goal! Each participant will have their own custom online fundraising page, which they can update with blog entries on their experience and send to friends and family to make a tax-deductible donation to split between your PTA and RFKM.
Sick of selling candy bars, magazines and wrapping paper to raise funds? How about local, healthy farm foods?
Fundraisers can be healthy! With FarmRai$er, kids get the opportunity to sell local, healthy farm products via a custom online market. Raise money for your school or organization, promote healthy food, and support local farms and businesses. We want our kids to be healthy - their fundraisers should be too. Use the code RFKM25 to get $25 in matching funds to start your campaign.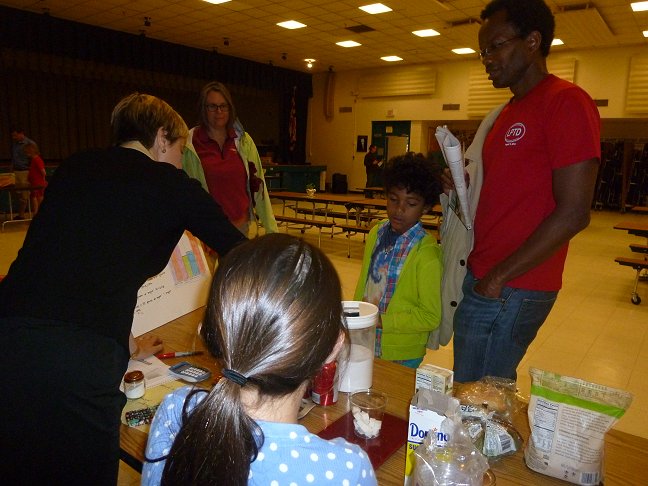 Salad Bar Summit Success
April 25, 2016
Healthy School Food Maryland's Salad Bar Summit was a huge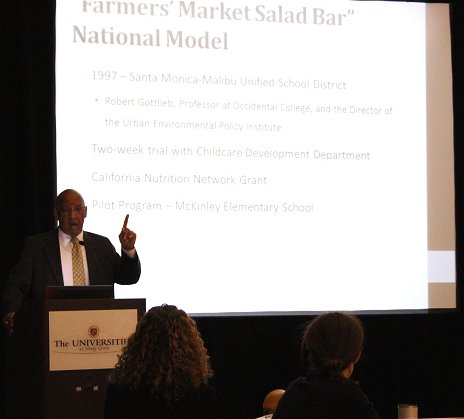 success with over 70 attendees, including parents, teachers, farmers and students from 5 Maryland counties and the Director of Food and Nutrition Services for the Montgomery County Public Schools, Marla Caplon.

The keynote speaker, Rodney Taylor, gave a moving talk that both inspired and educated on how to start salad bars in elementary schools. Having worked in small and medium school districts, Taylor, who is now Director of Food and Nutrition Services in Fairfax County, Virginia, is now excited to try his plan in the 10th largest school district in the country.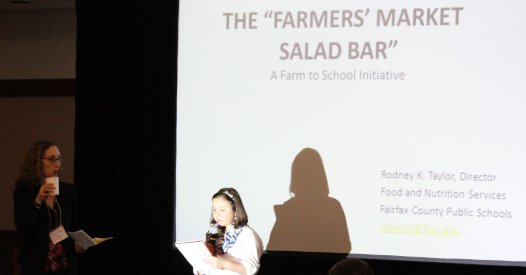 In his talk, Taylor emphasized his outrage at the projections for the occurrence of diabetes in the current generation (1 in three children and 2 in 3 Black and Latino children will get it), emphasizing that those are his grandchildren and that food service directors should feed children as if they were their own. He also pointed out the hypocrisy of the emphasis on making sure all children are fed properly during testing week but the apathy towards feeding them properly the rest of the time.

Of Taylor's suggestions for implementing salad bars successfully, based on his work in the Riverside Unified School District in California, the most important were that the produce coming from Farmers' Markets would be fresher, tastier and more appealing to the eye than traditional options, and the need to stock the salad bar in a way that is visually appealing, including cut up fruits and variety. Little discussion and few questions arose about one of the most common concerns with salad bars, hygiene, as the simple salad bar etiquette sheet provided by Taylor and the staffing by adults of the bar effectively addressed those problems. Other recommendations by Taylor were to provide a display plate of salad to demonstrate how to make a healthy salad with a variety of items and to place the salad bar in the cafeteria, rather than in the serving line.

Regarding costs, grants provided some of the funding for the equipment that Taylor used in previous districts, but day-to-day costs were not greater than with other options, as the smaller portions taken by younger students balanced out the larger portions taken by older students. In elementary schools, salads were sold rodneyatsummit_enewsas part of the set price, free or reduced-priced meals, at times served with proteins and carbohydrates as a full meal and other times as a side salad. But in high schools, presumably due to greater consumption, salads were sold by weight and ultimately were not successful for him (although Fairfax has one functional salad bar, which he is watching). As a result, in Riverside, Taylor had a chef design a line of Panera-style sandwiches and salads to sell to high school students, which he called Fresh Express. Before launching salad bars, Taylor made sure to get the support of his Superintendent in case he did run a deficit.

Full notes and Taylor's Power Point Presentation from the Salad Bar Summit are available on the Healthy School Food Maryland web site.

See pre-coverage of the event in Bethesda Magazine:
Advocates for Healthier Food in Schools to Gather for First 'Salad Bar Summit' in Rockville
MCCPTA Resolution on School Food
May 10, 2016
On April 22, 2016 the Montgomery County Council of PTAs (MCCPTA) passed a Resolution to Promote Healthy Food Sold and Served to Children in MCPS. It includes requests to MCPS to transition to scratch-cooking in its central facility or in schools, reduce sugar in school foods, offer only healthy a la carte items in elementary schools, remove soda, sugar-sweetened and artificially-sweetened beverages from school vending machines and remove all synthetic dyes from school foods. It also asks for MCPS to put salad bars in all schools. RFKM worked very closely with the MCCPTA Health and Safety Committee to create and pass this resolution and will continue to follow up with MCPS to ensure its implementation. Resolution Full Text
MCPS Forms Wellness Committee
February 3, 2016
Starting in April of 2013, RFKM began to request that MCPS restart the wellness committee that had existed in prior years,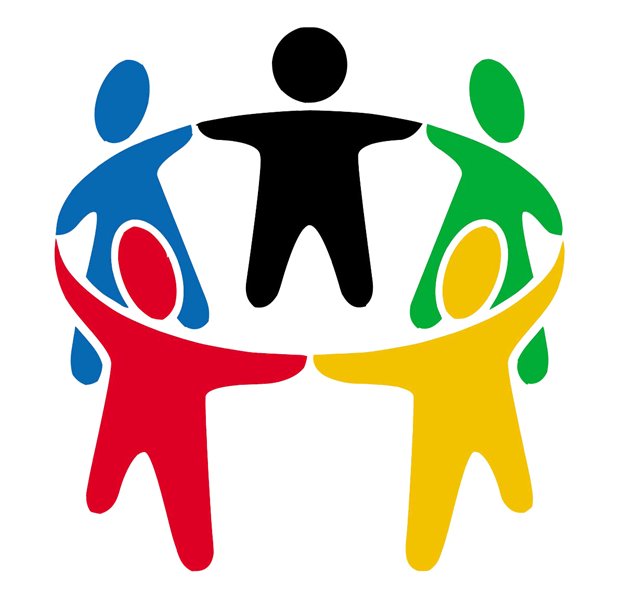 most likely to fulfill federal regulations that each district write a wellness policy and update it every three years.
We are glad to report that thanks to MCPS COO, Andrew Zuckerman, the Wellness Committee has been formed and had its first meeting in December 2015, including a representative from RFKM.
Consistent with our requests, the committee includes many people who do not work for MCPS, including parents, representatives of non-profit organizations and medical professionals. Additionally, it is co-chaired by two individuals who serve underneath the COO and not under the Division of Food and Nutrition Services (Dana Davison, Executive Director of the Chief Operating Office of MCPS and Cara Grant, Supervisor of Pre-K-12 Health and Physical Education for MCPS). We thank Dr. Zuckerman for his responsiveness to parent concerns in creating this committee. While the committee's charter at the moment is limited to the implementation of the existing wellness policy and regulation, we hope it will nonetheless have a strong impact on the wellness environment and food in MCPS.
Somos Montgomery - Comidas en las Cafeterías MCPS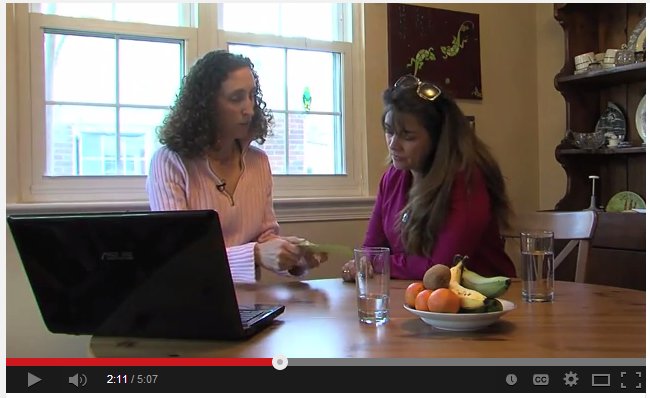 Somos Montgomery did a Spanish-language video on our work pushing for healthier school food. Please pass on to your Spanish-speaking friends!