Buy from Amazon from our link and a portion of the sale will go to RFKM!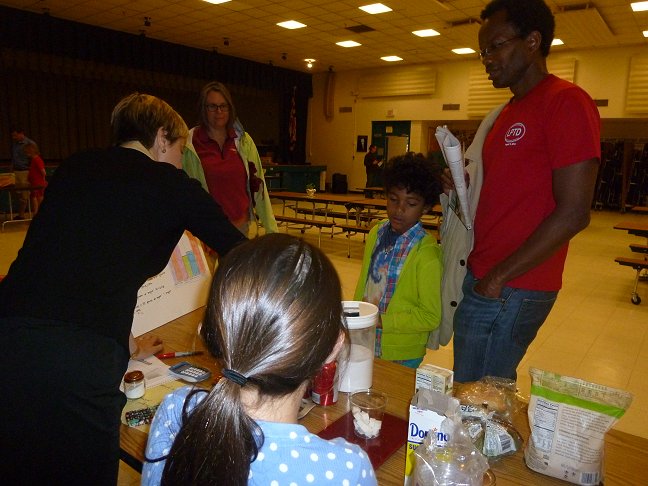 "As a teacher in MOCo public schools I see the negative effect this so called food has on students daily. Many of these students count on these meals as their only food for the day and sugar and chemicals aren't fitting for creating a positive learning environment."
"We would love her daughter to be able to eat the food in the cafeteria, but it just isn't healthy. We limit her to once a week. We should also do away with vending machines in the schools. Or have vending machines that sell things like fruit.
"
"Please no more chicken nuggets, pizza, fries and other junk foods. Positive peer pressure can help some kids open up to new, healthier foods. School is a good opportunity for that.
"
"I teach high school and the students are begging for healthier choices--especially the kids who receive free and reduced meals. Their options are limited.
"
"Our bodies have only one opportunity to grow from infancy to adulthood. Real food versus cheap chemical pretend food as we grow can make the difference between lifelong good health or a life of diabetes, high blood pressure, obesity, allergies, and worse."
"I was stunned to learn that my kids can buy junk in the
elementary and middle school cafeterias, right after studying 'Nutrition' in their classrooms"

Firme nuestra petición en apoyo de legislación que tenga vigencia en todo el estado
5 de febrero de 2015. Healthy School Food Maryland, la coalición de la cual formamos parte, preparó una nueva petición que se circulará en todo el estado, cuyo fin es promover siete iniciativas legislativas distintas que serán sometidas a votación en las sesiones de la Asamblea General de Maryland y que contribuirán a la adopción de reformas saludables a los servicios de comidas de todas las escuelas públicas de Maryland. ¡Gracias a las gestiones realizadas por RFKM a nombre de la coalición, tenemos legisladores que patrocinan todas nuestras iniciativas en la Cámara de Delegados y senadores que patrocinan 6 de nuestros 7 proyectos! También encontramos varios legisladores que copatrocinarán distintos proyectos en ambas cámaras, entre ellos muchos integrantes de los comités que darán debate inicial a las iniciativas. Al firmar esta petición, usted estará apoyando la legislación propuesta, destinada a mejorar las normas de nutrición y transparencia por las que hemos hecho campaña desde la fundación de RFKM. Necesitamos su ayuda para darla a conocer por todo Maryland y aumentar las probabilidades de que estos proyectos se conviertan en legislación. Por favor, firme esta petición y distribúyala entre sus amigos y sus familiares que viven en el estado.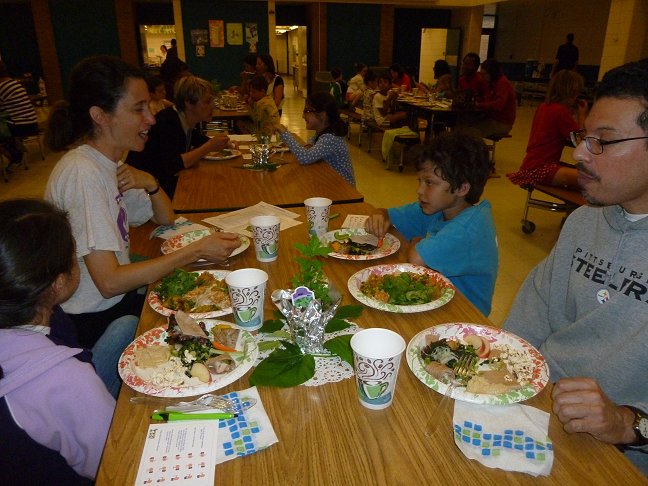 Somos Montgomery - Comidas en las Cafeterías MCPS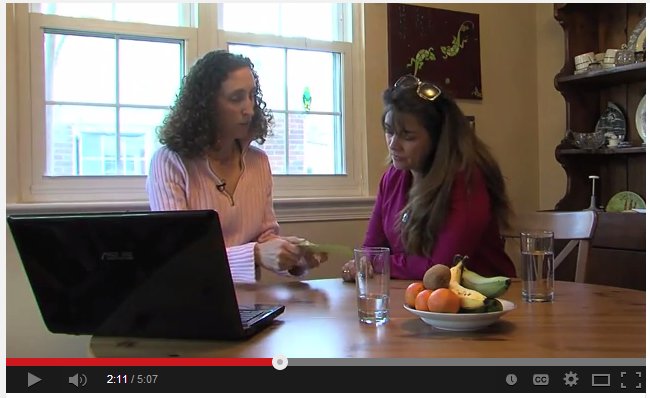 Somos Montgomery did a Spanish-language video on our work pushing for healthier school food. Please pass on to your Spanish-speaking friends!
MCPS to Establish Wellness Committee
After more than 2 years of advocacy on this issue, MCPS has agreed to establish a standing Wellness Committee! According to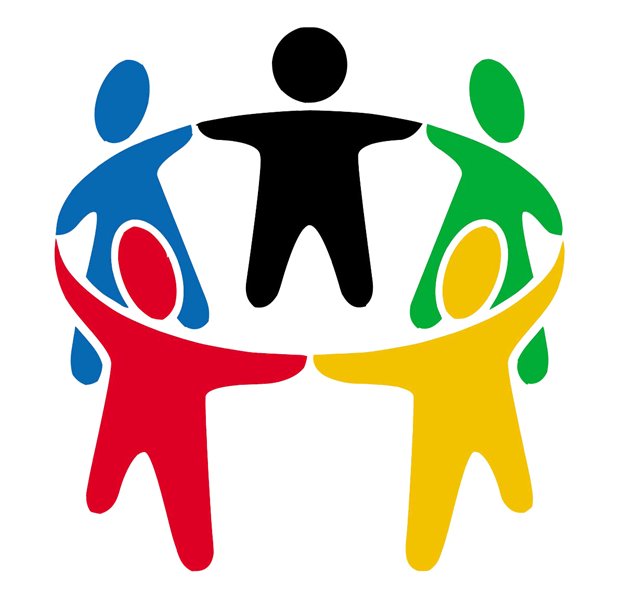 MCPS' Acting COO, Andrew Zuckerman: "The committee will be composed of a broad cross section of stakeholders as outlined in the Healthy, Hunger-Free Kids Act of 2010, and the purpose will be to periodically review and update our wellness policy, as based on best practices."

We are very glad that MCPS has agreed to take this step and hope that this will open up an opportunity for parents and other stakeholders outside of MCPS to weigh in on a policy that impacts the wellness of our children and, therefore, our present and future community.

The agreement to establish this committee comes after 5 months of meetings by the Wellness Regulation Revision Work Group which RFKM's Executive Director Lindsey Parsons took part in. This group was charged with updating sections D and E of the MCPS Wellness Regulation. While this group was composed of only 15 people (including 2 parents, 2 students, a representative from Share our Strength, the head of school nurses, the holder of the vending contract with MCPS - an obvious conflict of interest - and the remainder employees of MCPS), we are hopeful that a future committee will bring in much greater outside participation. A desirable goal is 50% non-MCPS employees, including representatives from non-profit organizations, medical professionals, nutrition professors, community wellness organizations and a much larger contingent of parents (ideally at least 25%).

The temporary Wellness Regulation Revision Work Group, which was ultimately only allowed to consider alterations to the competitive food regulations, voted to change the Wellness Regulation in a few ways. This included changes welcomed by RFKM, including limiting sugar in an 8-oz. serving of chocolate milk to 21 grams if available, and prohibiting the artificial sweetener acesulfame-potassium in school food. Unfortunately, it also voted for changes that RFKM fought against, including increasing the serving size of juice sold in elementary schools from 6 to 8 oz. and in secondary school from 8 to 12 oz., and increasing the serving size of milk (including chocolate milk) allowed in secondary schools from 8 to 12 oz. In adopting USDA regulations on beverages, the committee also weakened the MCPS Wellness Regulation by allowing low calorie sugar-sweetened beverages (maximum 60 cal. per 12 oz. serving), which were previously not permitted. In practical terms, this means Fruit Wave H20, the flavored water sold in secondary schools with 3.5 tsps of added sugar per serving, will now be legal. For 2 years, it has been sold in violation of MCPS's own wellness regulation. The holder of the vending contract with MCPS is also part-owner of the company that manufactures and distributes Fruit Wave H20.

While we fought hard against these weaker standards, it was difficult within the context of what we were allowed to do.
Despite the fact that the Healthy, Hunger-free Kids Act of 2010 mandates that the general public be involved in the writing, updating and implementation of the district's wellness policy, the group's facilitator asked that we keep the process confidential. The process was fundamentally flawed, and the outcomes were predictable on that basis. For more information on the process, read Lindsey's testimony to the Board of Education on April 27 on the topic.

With the initiation of a standing Wellness Committee, we are nonetheless hopeful to start off on a new foot to work towards a wellness policy and regulation for MCPS that scores better than the current 34 (F) for comprehensiveness and 20 (F) for strength, according to evaluations using the WellSAT 2.0, a wellness policy evaluation tool developed by the Rudd Center for Food Policy and Obesity.
May 22, 2015. On Sunday, May 17, the Takoma Foundation awarded Karen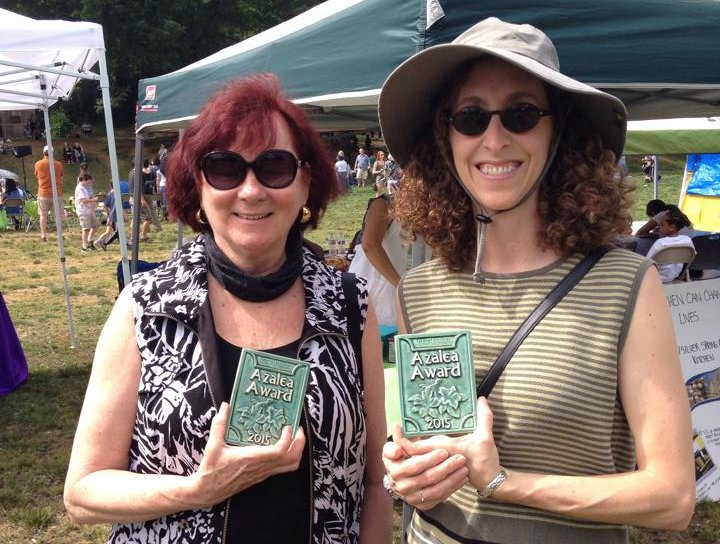 Devitt and Lindsey Parsons, RFKM's co-founders, the Azalea Award for School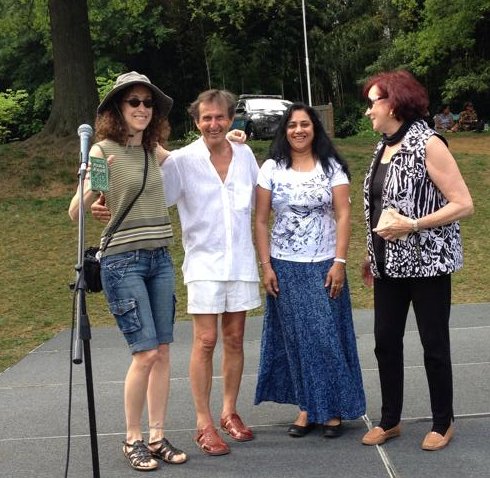 Activist.




We were very happy and thankful for this recognition of our work by the foundation and the people of Takoma Park.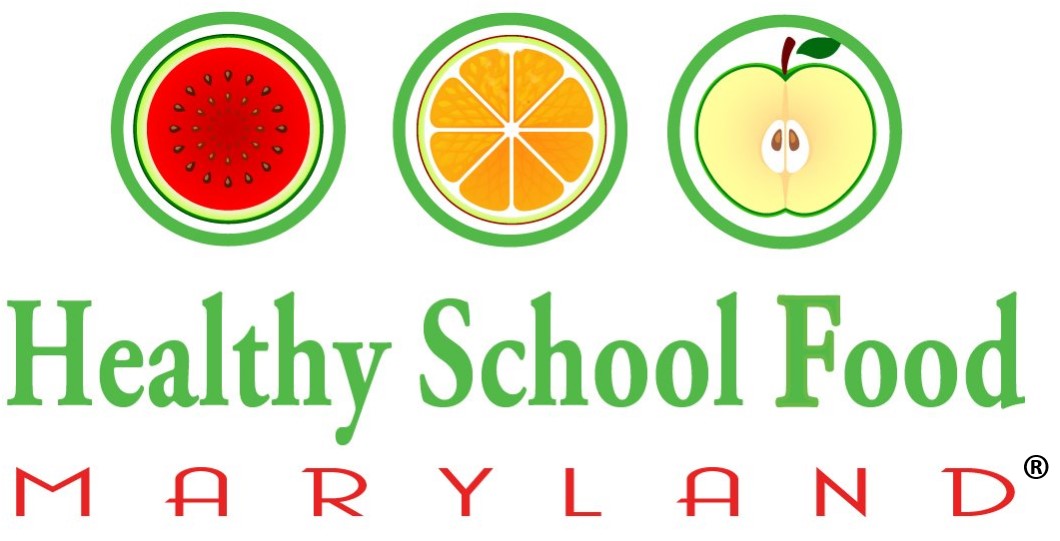 May 22, 2015. The Maryland state legislative session ended on April 13. The Healthy School Food Maryland coalition, which RFKM built, had some partial victories on the 7 bills we proposed: passing our Farm-to-School expansion through the House of Delegates; and having our School Food Transparency and Thirsty Kids Act voted favorable in the Senate Education, Health and Environmental Affairs Committee (despite opposition testimony from the Maryland School Nutrition Association) and sent to the floor for a vote. Unfortunately, when opposition was brought to both our bills on the Senate floor by Republican Minority Whip Steven Hershey, Jr. (representing Kent, Queen Anne's, Cecil, and Caroline counties on the Eastern Shore), it was difficult for the Senators sponsoring our bills to counter it. Objections he brought to the Thirsty Kids Act (which at that point had been amended down to only including reusable water bottles on all supply lists) included a concern that children would waste class time going to the fountain to fill up their bottles, or that children might put Palcohol (powdered alcohol, a new invention) into their bottles. Ultimately, the Thirsty Kids Act was pulled back into committee and given an unfavorable report subsequent to its favorable report.

The next bill to make it to the floor, the School Food Transparency Bill (which at that point had been amended down to only require schools to either post a la carte lists to their web site or send them home once a year) was accused of being an unnecessary and burdensome mandate on the entire state due to concerns brought only by parents in Montgomery County. Additionally, our own Board of Education (at the request of the staff in the Department of Food and Nutrition Services - DFNS) submitted testimony against it, and DFNS staff showed up on the day of the vote to lobby against it. While we had demonstrated through testimony in committee that the concerns of parents in Montgomery County were common to schools all over the state, with almost all districts not listing at all or hiding a la carte items in Nutrient Lists, this testimony is not typically seen by legislators outside of the committee considering the bill. But in fact, ultimately, when the bill came to a vote, it lost 24-21, with three Senators from Montgomery County voting against it: Nancy King, Cheryl Kagan and Brian Feldman. Overarching concerns from many Senators related less to the content of our bills but rather to whether it was the role of the State Legislature to tell school districts how to manage their school food programs.

Once the Transparency bill failed, it doomed the fate of our other bills in committees both in the Senate and in the House, because typically Committee Chairs do not want to pass bills out of committee that will be voted down on the floor. So sadly, none of our remaining bills were even voted on in committee in either chamber. Guaranteeing votes to the committee chairs was impossible at that point, because legislators' calendars become so booked at that point that you can't even get in to see them, and few will commit to voting for anything anyway.

But the amazing part of all this was all the help that our members and legislators around the state brought in these efforts. Senators Raskin, Montgomery, Nathan-Pulliam and Young and Delegates Waldstreicher, Smith, Moon, Platt, Hixson and Miller sponsored our bills. We delivered 53 different written or oral testimonies to support our bills. Nine different people (in addition to Lindsey and Karen) from the county or from our coalition partners around the state came to testify in person to support the bills; 887 people, many from other parts of the state, signed our petition in support of the bills; and many, many of you wrote emails to your legislators to ask for their support. So what we did accomplish, we could not have accomplished without you or our coalition partners, so thank you!

All in all, while it was disappointing to not pass anything this year, we have learned a lot about the process and feel confident that we know how to get the job done next year, albeit with perhaps a much smaller number of bills!
MCPS to Remove Chemicals from School Food
October 15, 2014. Real Food for Kids – Montgomery (RFKM) is pleased to announce that after over a year of advocacy work with the Montgomery County Public Schools on the topic of food dyes and other chemical food additives, MCPS Director of Food and Nutrition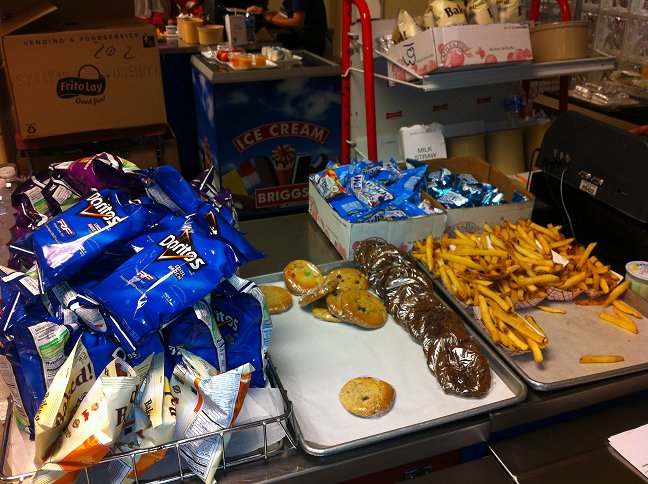 Services Marla Caplon has announced that from now on, a number of dangerous additives will be prohibited from bids for food served in its cafeterias. We are very thankful to MCPS and Ms. Caplon for hearing and acting on parent concerns. The list includes a number of artificial food dyes (Blue 2, Green 3, Red 3, Yellow 5 and 6); artificial sweeteners aspartame, acesulfame-potassium and saccharin; trans fat; lean finely textured beef (AKA pink slime); MSG; BHA and TBHQ. These chemicals were all identified as potentially harmful by scientists for Center for Science in the Public Interest, who worked with RFKM to develop a target list. RFKM members (who now number over 3500) have expressed concern about these chemicals due to studies linking them to ADHD, cancer and other adverse effects. While many parents keep their children from consuming these chemicals by avoiding school food, 34% of children in MCPS qualify for free and reduced priced meals and may eat up to three times a day at school. Children who are sensitive to these substances may suffer from hyperactivity after consuming them, which impacts the classroom environment and should therefore be of concern to all MCPS parents.

The changes will affect all contracts going forward but will not affect existing contracts until they expire. These changes will remove from sale many popular a la carte snacks in MCPS, including Welch's Fruit Snacks, Cheez-It Crackers, Cool Ranch and Spicy Sweet Chili Doritos, Baked! Cheetos, Eagle Popped Crisps, several flavors of the Ridgefield's Fruit Smoothies and several ice cream bars with artificial colorings. While some parents may be concerned that students will have few choices left, there are in fact many excellent, clean-label snacks available and the example from other school systems indicate that with time, students get used to new options. We have also identified a few of the entrée items and sauces that will be impacted, including the spicy chicken breast patties, orange chipotle sauce and sweet and sour sauce.

While we're very excited about the chemicals that will no longer be in our children's food, we must note the absence of other substances that we requested be removed in our June 3 petition to the school board: red dyes #2 and #40, blue dye # 1, caramel color, artificial flavors, azodicarbonamide, sucralose, cyclamates, high fructose corn syrup (HFCS), potassium bromate, sodium benzoate, brominated vegetable oil (BVO), BHT, sodium nitrite/nitrate, substances similar to MSG that contain glutamate, such as Torula yeast and hydrolyzed vegetable protein, Mycoprotein (Quorn), and sulfites/SO2. We recognize that the exclusion of these remaining chemicals would necessitate a substantive change in the way MCPS does school food, as almost all of the processed foods served in MCPS contain one of these substances, which may have impacted the decision for a partial list. RFKM has communicated parent desires that MCPS move from their model of serving processed, reheated food to preparing food fresh in their central facility, thereby eliminating many chemical additives. With the opening of a new central facility estimated in January, we are hoping that more and more items will be prepared from scratch at the county level. We will continue to advocate on this point and need your help to do so. We would like to move to having one full-time staff person at RFKM in the new year, but we need much more member support to do so. We would like to move to having one full-time staff person at RFKM in the new year, but we need much more member support to do so. Could you either contribute today or commit to be a monthly sustainer?

For food chemical nerds like ourselves, the complete list of chemicals to be banned is: Monosodium Glutamate (MSG), trans fat, lean finely textured beef, Blue 2, Green 3, Red 3, Yellow 5, Yellow 6, Aspartame, Acesulfame-Potassium, Saccharin, Butylated Hydroxyanisol (BHA), Potassium Bromate, Propyl Gallate, Sodium Tripoly Phoshate (STPP), and Tert-Butylhydroquinone (TBHQ).
Media coverage:

Montgomery schools to prohibit certain chemicals in foods - The Gazette
Doritos, Fruit Snacks Get the Boot as Montgomery County Schools Ban Certain Additives - CBS DC