Buy from Amazon from our link and a portion of the sale will go to RFKM!
Can your child eat the recommended 5 servings of fruits and vegetables for 5 days in a row? Ask your PTA to partner with RFKM in the 5 for 5 Challenge!
Challenge students and their families at your school to see if they can eat 5 servings of fruits and vegetables every day for a school week for a $5/serving sponsorship. Invite family and friends to sponsor servings, and help meet your healthy eating goal! Each participant will have their own custom online fundraising page, which they can update with blog entries on their experience and send to friends and family to make a tax-deductible donation to split between your PTA and RFKM.
Sick of selling candy bars, magazines and wrapping paper to raise funds? How about local, healthy farm foods?
Fundraisers can be healthy! With Farmraiser, kids get the opportunity to sell local, healthy farm products via a custom online market. Raise money for your school or organization, promote healthy food, and support local farms and businesses. We want our kids to be healthy - their fundraisers should be too. Use the code RFKM25 to get $25 in matching funds to start your campaign.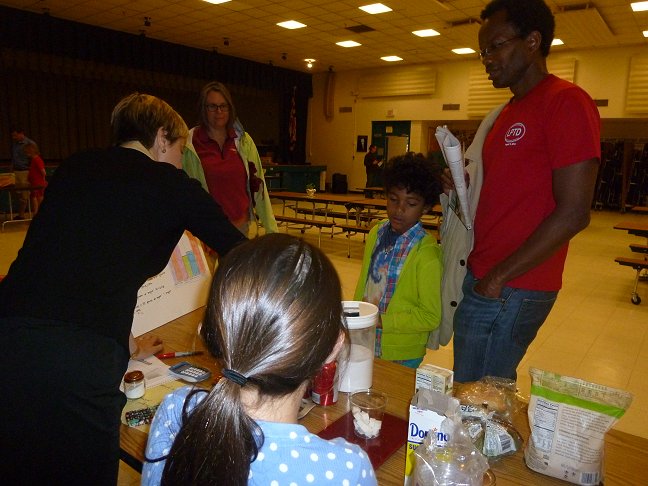 Beverly Uzoma is a Fundraising and Development Intern at RFKM. She shares with us her experience with the food in MCPS.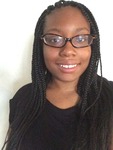 From the 2nd grade until my senior year of high school in 2012, I qualified for free or reduced lunch in MCPS. I ate an assortment of foods that were not very appetizing or healthy for me, such as sloppy joe's with tortilla chips, oily pizza, and boardwalk fries. As a kid, it was definitely the best part of the day, since my mom was adamant about healthy eating at home. She was born in Nigeria, where junk food is not a large part of the daily menu. She did not allow us to drink sodas or eat candy very often. Instead, we ate a lot of rice with tomato and onion stew, baked chicken (never fried), and a side salad. Our traditional foods, such as fufu and Egusi soup, consisted of pounded yam flour, spinach, beef, and natural herbs bought from the nearby African store.

As I grew older and spent more time at school, I ate breakfast and lunch there every day. The sugary snacks and junky a la carte items took a large toll on my body, and therefore my confidence. I gained too much weight which hindered me from doing as well as I could have in outdoor activities, such as softball and cheerleading. The weight gain was due in part to sugary breakfasts, such as French toast sticks with syrup, or cinnamon rolls wrapped in plastic. If the lunch option did not look good, I would buy a cookie with the 40 cents meant for my reduced-price meal. My high school also had a small store that sold chips, cookies and hotpockets after school. Now that I am in college, I can better control what I eat and choose foods with better nutritional value. With full salad bars with lots of fruit, a salad station with salmon, chicken, sprouts and other options, as well as a vegan station, the choices are much healthier. My hope is that one day my four younger brothers who still attend MCPS will be able to have the same access to healthy foods to promote their physical, mental and academic well being.

**********
While many of you will be taking a break, RFKM will continue to work towards Beverly's goal over the summer. We could use your support before you leave on vacation! Please donate to RFKM. Any amount is more than appreciated.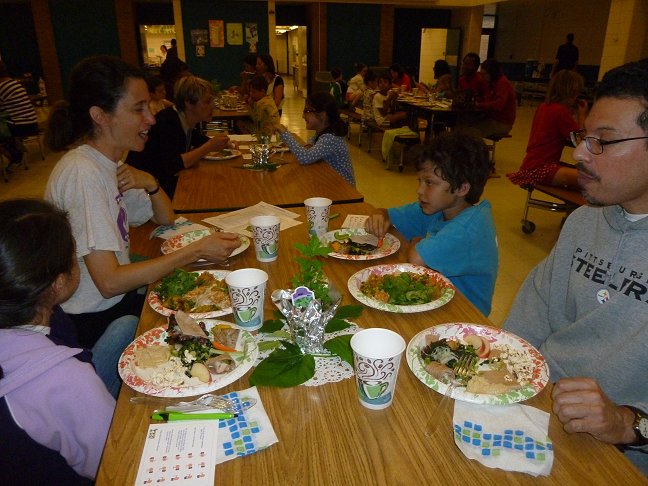 Somos Montgomery - Comidas en las Cafeterías MCPS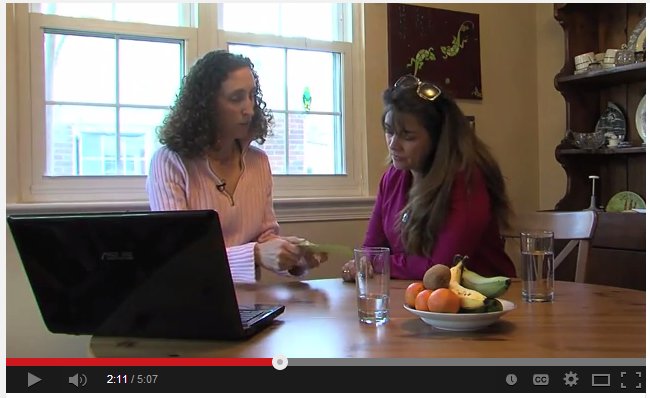 Somos Montgomery did a Spanish-language video on our work pushing for healthier school food. Please pass on to your Spanish-speaking friends!
Read our 2014-15 Annual Report
On May 29, RFKM awarded Chevy Chase Elementary School (CCES) the 2014-2015 Most Improved School Food Award for their exceptional emphasis on school nutrition. Last year, CCES created a formal wellness committee, which has been the driving force behind many of the nutrition-related changes that have been made.This year,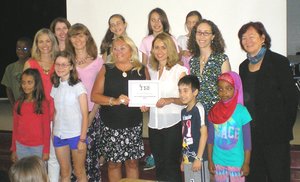 CCES instituted RFKM's Healthier Party Plan, which incorporated healthy snacks and water into school parties and discouraged soda and foods with artificial colors. CCES has also provided teachers with RFKM's flyer with alternative options to rewarding children with food in class. The wellness committee at CCES replaced cafeteria a la carte foods containing artificial food dyes and too much sugar with healthier items containing high fiber and whole grains.

Furthermore, the staff at CCES has shown their support for nutrition education by inviting nutrition specialists to hold a workshop for parents in April on preparing healthy snacks and lunches.They also made an effort to keep parents informed and to get parents involved in the changes being made to improve the school food environment. In May, CCES hosted a Wellness Week dedicated to educating the students about nutrition. Assemblies were held featuring experts in healthy eating, and a program called "Eat the Rainbow" was promoted to get the children to eat a variety of fruits and vegetables in a fun and engaging way.

CCES has been an advocate for healthy living in the greater community as well as within the school. They held a fundraiser at Nava Health Center to teach parents how to update their holiday meals with healthier recipes and they held a parent-child fitness class fundraiser at Pulse Fitness.

Other notable nominees included:
Sligo Creek ES—for installing an interactive salad garden, featuring a section for RFKM on their PTA web site, and promoting healthy snacks in the classroom and at parties; and
Takoma Park ES—for forming a Health and Wellness Committee, promoting nutrition education, and conducting a parent school food survey.
Know anyone with weight problems, food allergies, auto-immune disease, gastrointestinal issues, ADHD, diabetes, autism, Parkinson's, dementia, depression or anxiety?
If you don't, you must be living under a rock. If you do, I can't recommend the book "Brain Maker: The Power of Gut Microbes to Heal and Protect Your Brain for Life" by David Perlmutter highly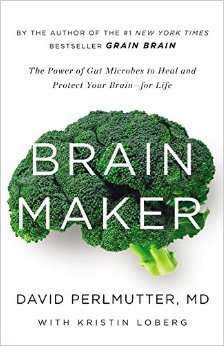 enough. If you missed my review of the Martin Blaser's book "Missing Microbes" you might want to start there then come back to this review. Perlmutter's book updates the research on mice, obesity and type 2 diabetes mentioned by Blaser to the most recent research out of the Netherlands showing that a replacement of the gut microbiota through fecal microbiota transfer (FMT) (aka poop transplants) in individuals with type 2 diabetes with the microbiota from lean, non-diabetic individuals, led to greater insulin sensitivity (which no current medication does successfully). This may be due in part to the fact that overweight individuals have been shown to have a much greater proportion of bacteria from the phylum Firmicutes than Bacteroidetes in their gut, and the former digest more dietary fibres than the latter, essentially extracting more calories from food. Perlmutter, a neurologist, who is also the author or "Grain Brain", also connects the destruction of the gut microbiome through C-sections, lack of breastfeeding, antibiotics and poor diet to many neurological conditions, including auto-immune diseases like MS, ADHD, ALS, Parkinson's, depression, anxiety and dementia. Apparently the gut microbiome's role in inflammation and inflammation's role in many other conditions is at the root of many of these diseases.

While research in these areas is in its infancy, what impressed me the most about Perlmutter's book was his willingness to help people start healing themselves by revealing what few have heard about at this point: probiotic enemas (might as well send the bacteria straight to the source), FMT, and eating fermented foods, cured foods and prebiotic foods. He documents a case he has personally seen of a parent appearing to cure her child of autism through home-done FMT (see thepowerofpoop.com for more information on that). He documents another case of a child whose symptoms of Tourette's syndrome virtually disappeared after treatment with probiotic enemas.

While FMT in the U.S. is only permitted for recurrent C. Difficile infections, in other countries such as the U.K., it is being used to treat many other conditions, including Multiple Sclerosis. And home-done FMT is becoming much more popular, with multiple do-it-yourself instruction sites popping up on the internet. Due to the obvious ick factor, this mostly appeals to people with potentially life-threatening conditions like ulcerative colitis and Crohns disease. The toughest part is often finding a good donor. That's why I'd encourage any of you in great health with a good diet to consider adding yourself to the donor registry, and then pick up a copy of Brain Maker: The Power of Gut Microbes to Heal and Protect Your Brain for Life.
May 22, 2015. On Sunday, May 17, the Takoma Foundation awarded Karen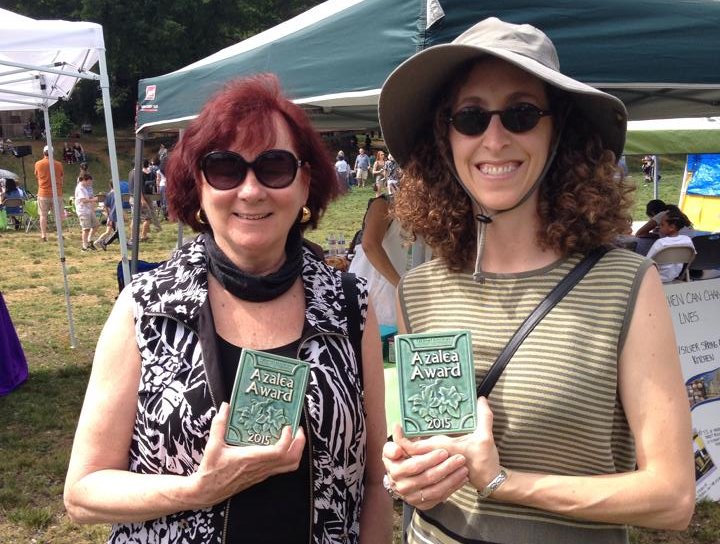 Devitt and Lindsey Parsons, RFKM's co-founders, the Azalea Award for School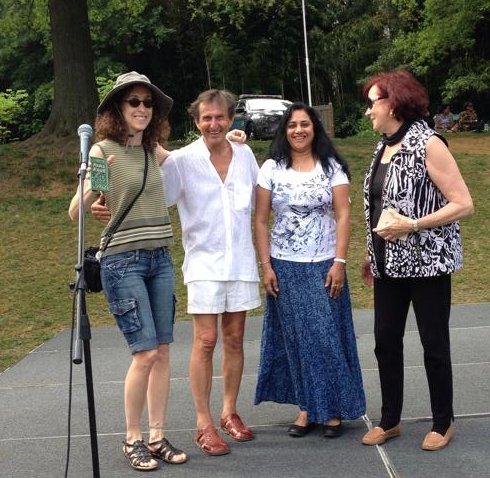 Activist.




We were very happy and thankful for this recognition of our work by the foundation and the people of Takoma Park.
MCPS to Remove Chemicals from School Food
October 15, 2014. Real Food for Kids – Montgomery (RFKM) is pleased to announce that after over a year of advocacy work with the Montgomery County Public Schools on the topic of food dyes and other chemical food additives, MCPS Director of Food and Nutrition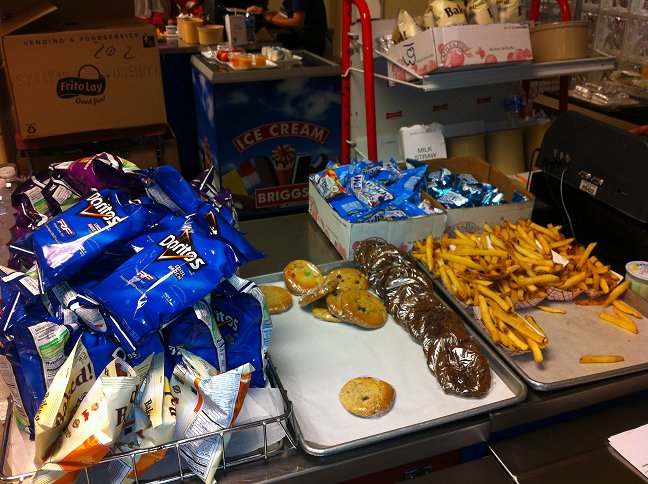 Services Marla Caplon has announced that from now on, a number of dangerous additives will be prohibited from bids for food served in its cafeterias. We are very thankful to MCPS and Ms. Caplon for hearing and acting on parent concerns. The list includes a number of artificial food dyes (Blue 2, Green 3, Red 3, Yellow 5 and 6); artificial sweeteners aspartame, acesulfame-potassium and saccharin; trans fat; lean finely textured beef (AKA pink slime); MSG; BHA and TBHQ. These chemicals were all identified as potentially harmful by scientists for Center for Science in the Public Interest, who worked with RFKM to develop a target list. RFKM members (who now number over 3500) have expressed concern about these chemicals due to studies linking them to ADHD, cancer and other adverse effects. While many parents keep their children from consuming these chemicals by avoiding school food, 34% of children in MCPS qualify for free and reduced priced meals and may eat up to three times a day at school. Children who are sensitive to these substances may suffer from hyperactivity after consuming them, which impacts the classroom environment and should therefore be of concern to all MCPS parents.

The changes will affect all contracts going forward but will not affect existing contracts until they expire. These changes will remove from sale many popular a la carte snacks in MCPS, including Welch's Fruit Snacks, Cheez-It Crackers, Cool Ranch and Spicy Sweet Chili Doritos, Baked! Cheetos, Eagle Popped Crisps, several flavors of the Ridgefield's Fruit Smoothies and several ice cream bars with artificial colorings. While some parents may be concerned that students will have few choices left, there are in fact many excellent, clean-label snacks available and the example from other school systems indicate that with time, students get used to new options. We have also identified a few of the entrée items and sauces that will be impacted, including the spicy chicken breast patties, orange chipotle sauce and sweet and sour sauce.

While we're very excited about the chemicals that will no longer be in our children's food, we must note the absence of other substances that we requested be removed in our June 3 petition to the school board: red dyes #2 and #40, blue dye # 1, caramel color, artificial flavors, azodicarbonamide, sucralose, cyclamates, high fructose corn syrup (HFCS), potassium bromate, sodium benzoate, brominated vegetable oil (BVO), BHT, sodium nitrite/nitrate, substances similar to MSG that contain glutamate, such as Torula yeast and hydrolyzed vegetable protein, Mycoprotein (Quorn), and sulfites/SO2. We recognize that the exclusion of these remaining chemicals would necessitate a substantive change in the way MCPS does school food, as almost all of the processed foods served in MCPS contain one of these substances, which may have impacted the decision for a partial list. RFKM has communicated parent desires that MCPS move from their model of serving processed, reheated food to preparing food fresh in their central facility, thereby eliminating many chemical additives. With the opening of a new central facility estimated in January, we are hoping that more and more items will be prepared from scratch at the county level. We will continue to advocate on this point and need your help to do so. We would like to move to having one full-time staff person at RFKM in the new year, but we need much more member support to do so. We would like to move to having one full-time staff person at RFKM in the new year, but we need much more member support to do so. Could you either contribute today or commit to be a monthly sustainer?

For food chemical nerds like ourselves, the complete list of chemicals to be banned is: Monosodium Glutamate (MSG), trans fat, lean finely textured beef, Blue 2, Green 3, Red 3, Yellow 5, Yellow 6, Aspartame, Acesulfame-Potassium, Saccharin, Butylated Hydroxyanisol (BHA), Potassium Bromate, Propyl Gallate, Sodium Tripoly Phoshate (STPP), and Tert-Butylhydroquinone (TBHQ).
Media coverage:

Montgomery schools to prohibit certain chemicals in foods - The Gazette
Doritos, Fruit Snacks Get the Boot as Montgomery County Schools Ban Certain Additives - CBS DC