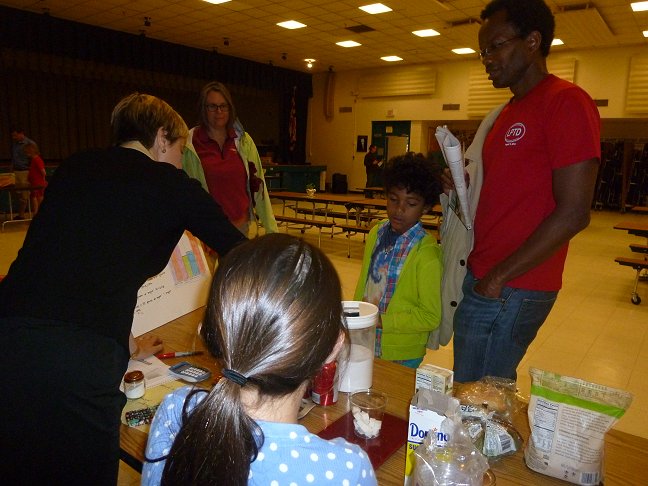 Petition to Continue
June 6, 2014. While RFKM turned in the first 2002 signatures from the petition we started on March 14th, asking MCPS for our top 10 priorities, we have decided to keep it going, as signatures keep pouring in. So, if you haven't yet, please sign on and share with your networks.
Español
As a teacher in MOCo public schools I see the negative effect this so called food has on students daily. Many of these students count on these meals as their only food for the day and sugar and chemicals aren't fitting for creating a positive learning environment.
-an MCPS Teacher

RFKM Dance Party Fundraiser May 31st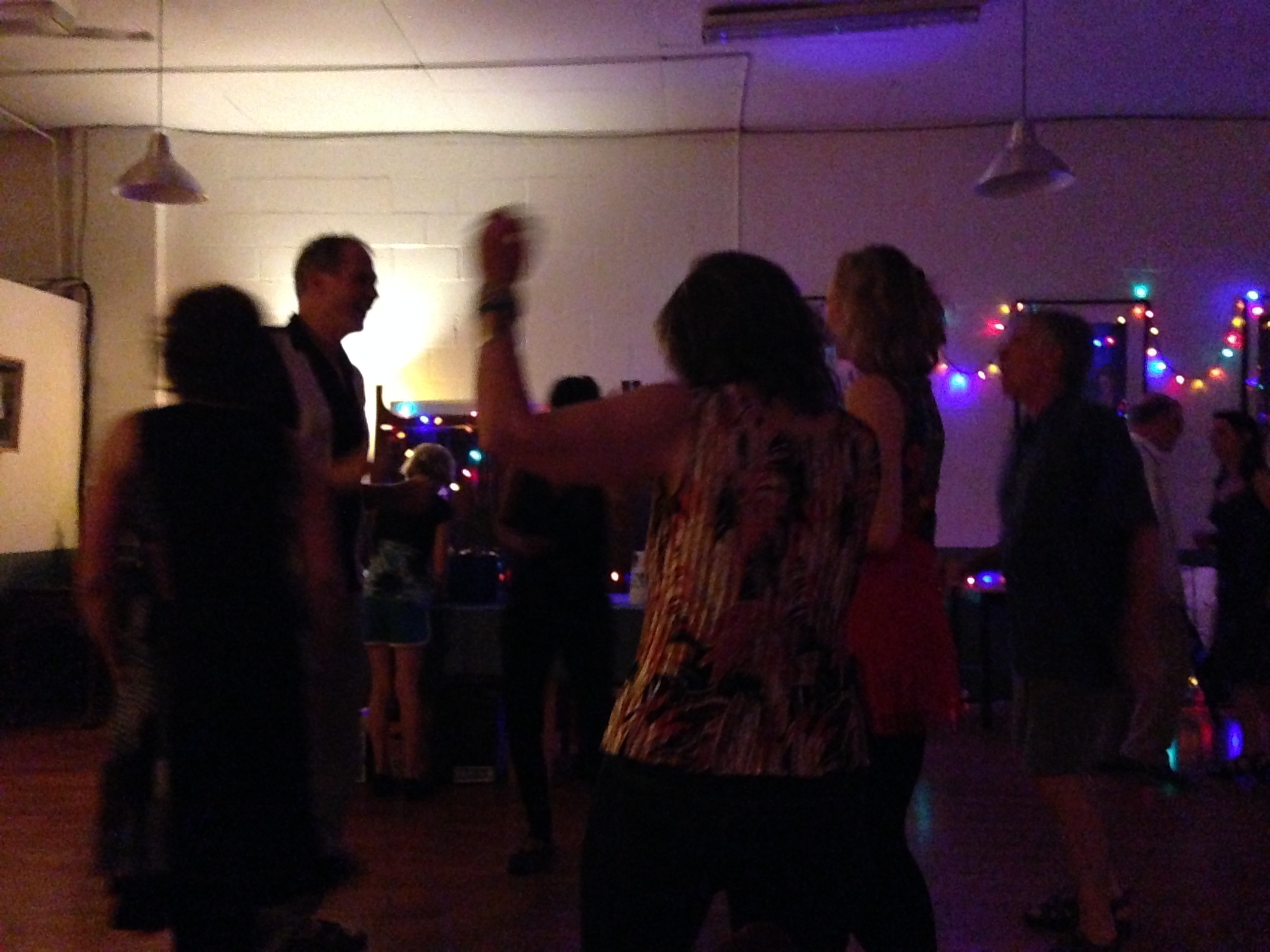 Our thanks to Susan and Catherine (Hot Dance / Cool Planet) and Pathways Warehouse for our May 31st dance party. RFKM made $351, which will go to support our ongoing advocacy campaigns.

Shop at Amazon.com and benefit RFKM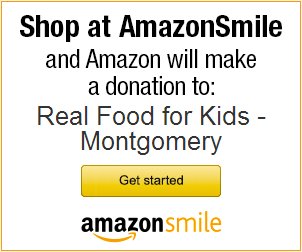 Amazon.com will donate a portion of your purchase to RFKM (through our fiscal sponsor, Chesapeake Institute for Local Sustainable Food and Agriculture), if you shop at Amazon from our Amazon Smile link:
Amazon Smile
Please bookmark this link so you'll benefit RFKM each time you shop!

I was stunned to learn that my kids can buy junk in the elementary and
middle school cafeterias, right after studying "Nutrition" in their
classrooms.
-an MCPS Parent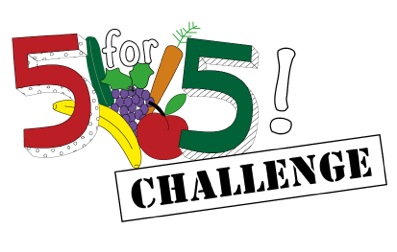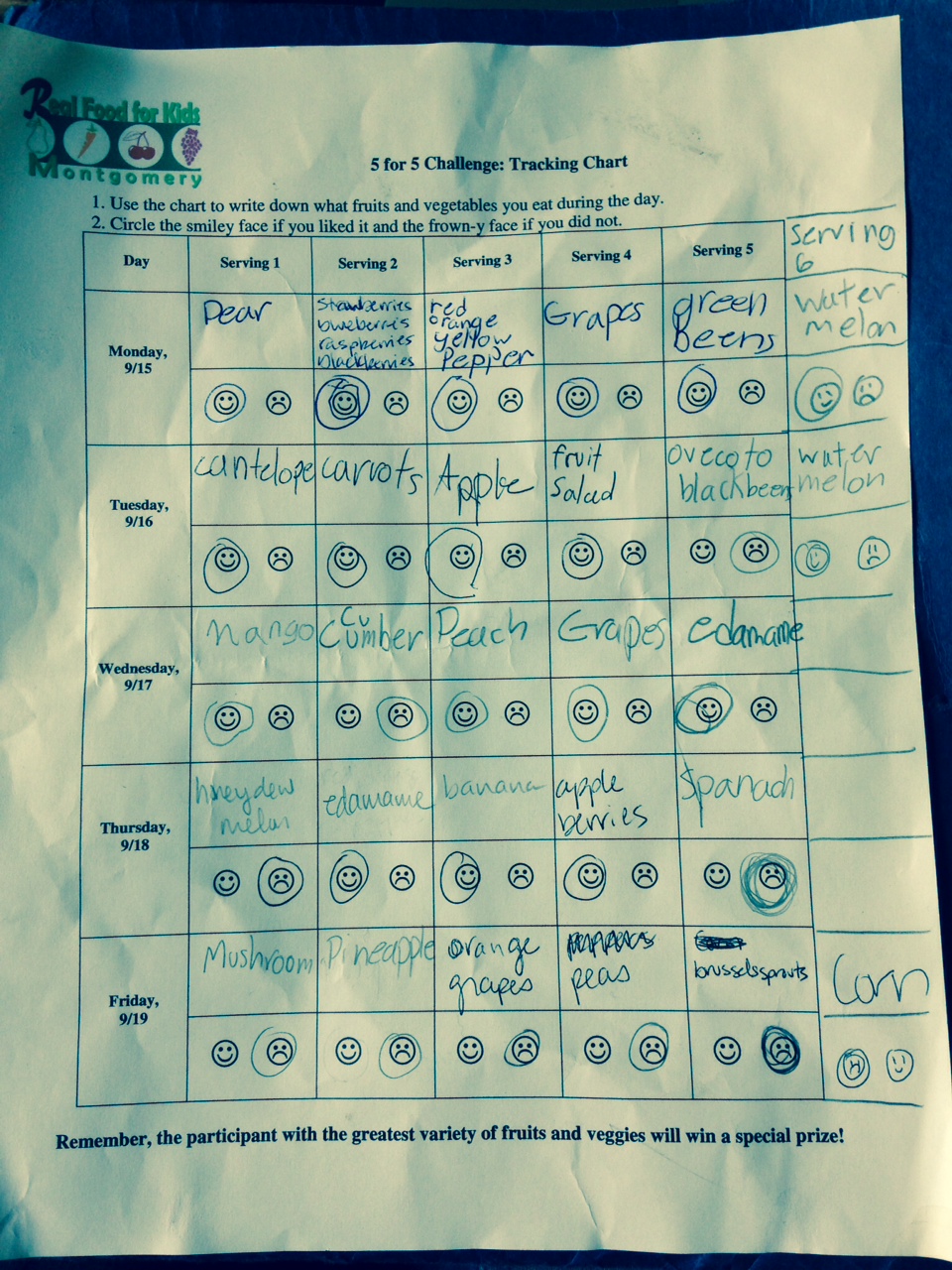 Thank you to all the students, parents and teachers who participated in the first "5 for 5 Challenge"! To date, we have raised $1,780 - not to mention the benefit to the participants who ate the recommended five servings of fruits and vegetables for five days in a row!
Our congratulations to Eleanor from East Silver Spring ES for winning the prize for eating the greatest variety of fruits and vegetables! Click on her tracking sheet above to see what a great job she did trying new things!
Comments from BOE Members and DFNS Director Indicate Progress on a Number of Petition Requests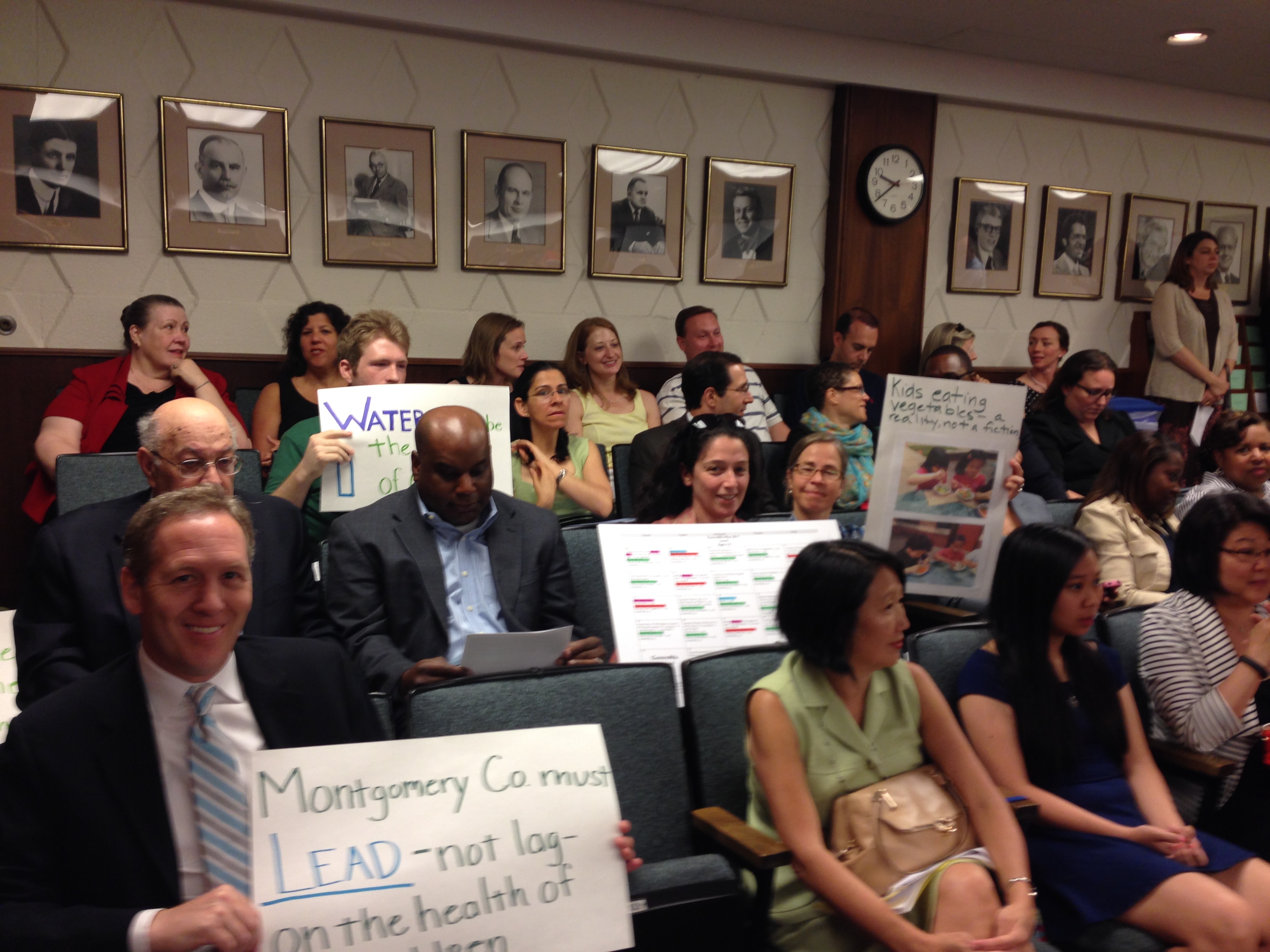 Tuesday, June 3rd, parents and supporters of Real Food for Kids - Montgomery took to the Montgomery County Board of Education meeting at the Carver Education Services Center in Rockville, MD to demand improved food and nutrition for school children in MCPS. Additionally, RFKM co-director, Lindsey Parsons, delivered a petition (which can still be signed) with over 2,000 signatures addressing the top ten concerns of RFKM members. The petition, including signatures from 809 parents, 203 students, and 43 physicians, called for school lunches to include more scratched-cooked, wholesome meals with unlimited fresh fruits and vegetables, or the option of a salad bar, and to eliminate the use of chemical additives, limit the availability of foods with high levels of added sugar, and offer, free unlimited water to school children with their lunches.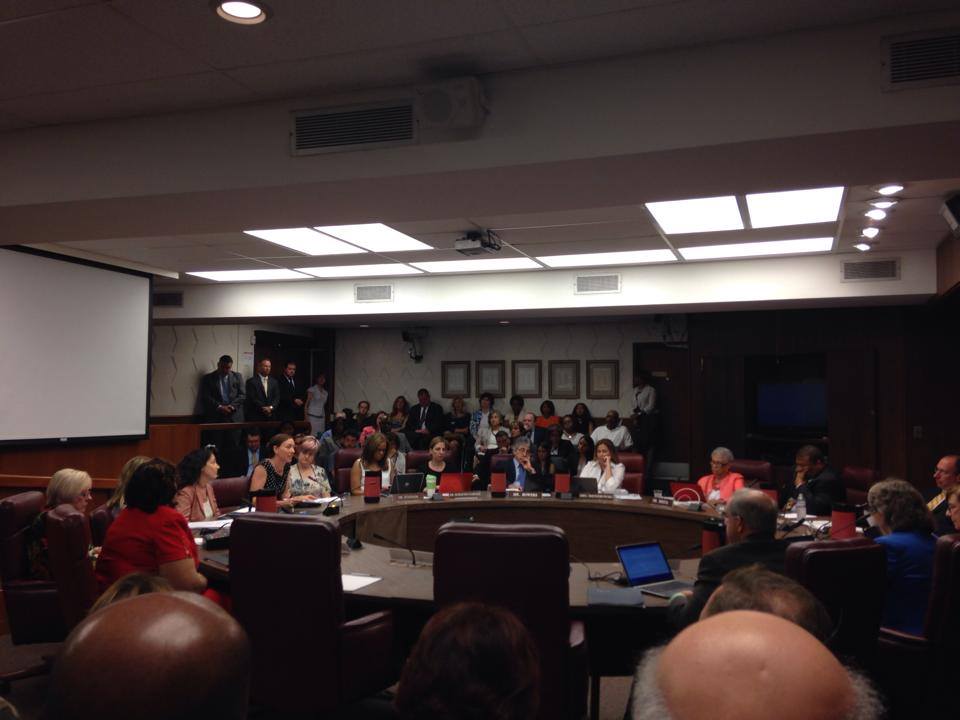 Concerned parents and county members presented their testimonies in front of Superintendent Joshua Starr and the Board, recounting their children's experiences with school lunch and even their own personal struggle to find healthy options. Ashia Mann told the school board that her child is only allowed to buy lunch from her school's cafeteria once per year, and that to her daughter, the food "tastes like going to the fair." Caron Gremont, founder of First Bites, a local non-profit organization that works with preschools in the area to excite children about eating fruit and vegetables, talked about CentroNia, a public charter school in Washington, D.C. that is able to feed each child each day fresh, high-quality, oftentimes local food for just $3 per meal—one dollar less than the $4 per meal that MCPS serves.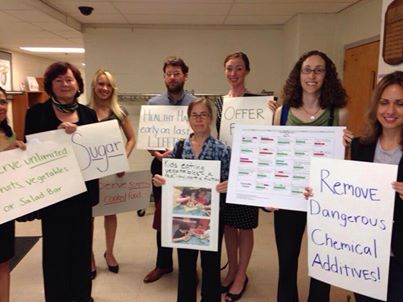 Later in the meeting, following an update on the state of school nutrition by Director of MCPS Food and Nutrition Services, Marla Caplon, several board members expressed concern regarding the lack of easy access to water in school cafeterias. Caplon agreed to look into providing baby waters to children who couldn't drink milk or conducting a trial of water coolers and cups at several schools. Caplon also indicated that MCPS is slowly working to remove foods with dyes from their offerings, and that preservatives would also be reduced when their new facility comes online, which will allow for more preparation of scratch-cooked foods. Regarding RFKM's concern about lack of transparency about a la carte items, Caplon indicated that they would create a template for principals in the coming school year to share information with parents regarding a la carte options at each school. Board of Education member, Phillip Kauffman, told Caplon that upon investigation of five individual school web sites, he was unable to locate a listing of a la carte and snack offerings, and recommended the creation of a shared tool that schools could use to post these items to their web sites. Other issues mentioned during the discussion with Caplon indicated that BOE members had read and were seriously considering the requests from the RFKM petition.

The meeting video can be watched here (Items 3 and 7).

Gazette coverage: Parents urge Montgomery school board to add more healthy foods

MCPS Switches to Dye-Free Frozen Sorbets (AKA "Sidekicks")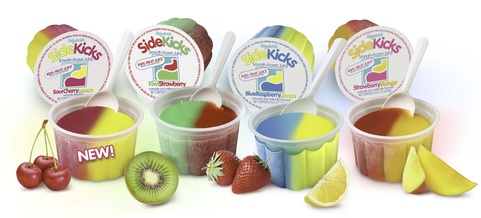 May 16, 2014. We were pleased to learn that MCPS has replaced their "Sidekicks" frozen juice desserts with a dye-free option from the same company. According to Marla Caplon, Director of Food and Nutrition Services, "We have replaced the "Sidekicks" with the one with no artificial ingredients." In August, after speaking with Ridgefield's, the maker of "Sidekicks", and determining that they offered at least one flavor without artificial food dyes, Lindsey Parsons, Co-Director of RFKM, requested that MCPS offer the dye-free option. She was very pleased to learn yesterday that this change had been made. While MCPS may be using up leftover stocks of "Sidekicks" with dyes, from now on, purchases will only be made of the dye-free option.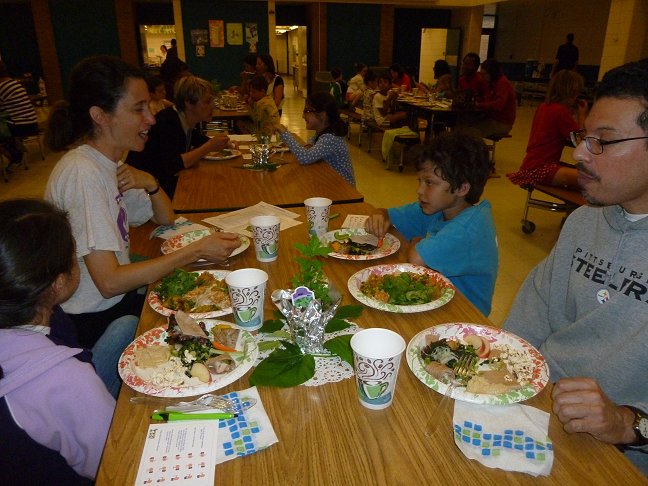 Petición ciudadana al Superintendente y la Junta de Educación
RFKM ha dedicado un año a buscar el apoyo de los padres de familia de Montgomery County, los estudiantes y otros miembros de la comunidad, con el fin de exigir alimentos más saludables para los niños que asisten a las escuelas públicas. Ahora conjugamos esos esfuerzos en una petición en línea. Al firmar la petición, los padres, estudiantes, miembros de la comunidad, empresas, iglesias, profesionales de la salud, organizaciones y maestros del condado respaldan las prioridades de RFKM.

¡Contamos con su apoyo para el éxito de esta campaña! ¡Firme ahora la petición, pídales a su cónyuge y a sus hijos que la firmen y compártala con todos sus amigos de MCPS por correo electrónico, Facebook y Twitter!
Texto de la petición en español.
Somos Montgomery - Comidas en las Cafeterías MCPS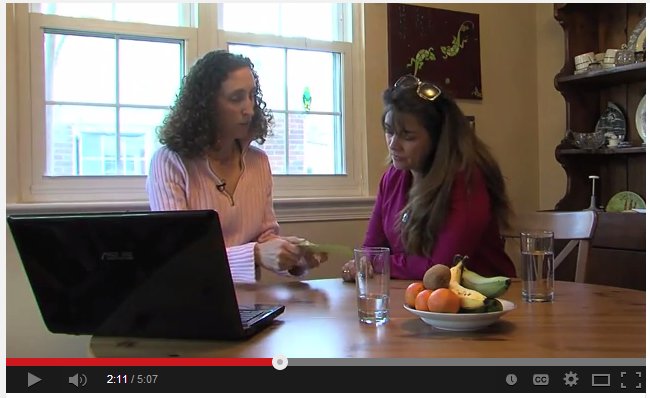 Somos Montgomery did a Spanish-language video on our work pushing for healthier school food. Please pass on to your Spanish-speaking friends!