One-pager on HSFM priorities and accomplishments
HSFM conducts yearly member surveys to understand our members' concerns and establish our priorities for advocacy. Our Board of Directors then sets a smaller number of organizational goals. As of June 2018, our goals are:
- Reduce added sugar to 10% per meal
Progress: MCPS announced in spring 2018 that added sugar in the chocolate milk they purchase would be reduced by 3 grams (from 22 grams total/10 added to 19 grams total/7 added)

- Ensure that all students have access to safe, clean water

- Decrease the use of processed foods
We also recognize that decreasing the repetition of kids' foods like pizza, burgers, fries and processed chicken has been one of the highest priorities for our membership, so that was added to the rubric for 2017 that we use for the School Food Environment Grades through the coalition we coordinate, Healthy School Food Maryland. Subsequent to that addition, MCPS reduced the frequency of pizza in elementary schools from twice to once a week.
HSFM conducted our 2018 member survey between February and March of 2018. There were 514 respondents from 4644 invitations (11.1% response rate), of which 441 completed all the substantive questions (9.5% completion rate).
The primary survey questions and responses are provided below, followed by a link to the complete survey results.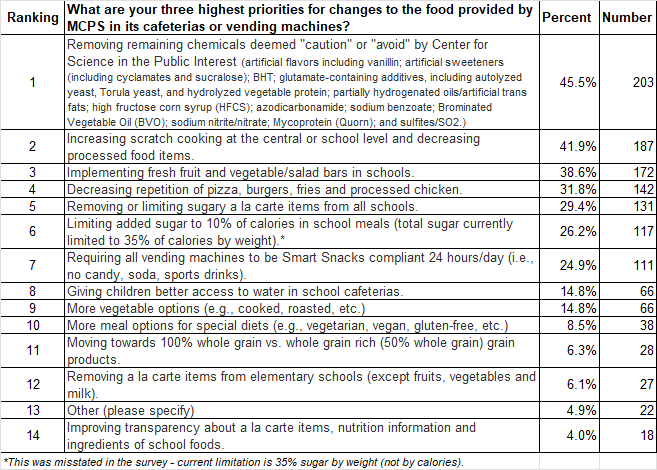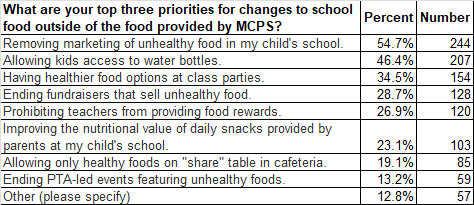 2017 Priorities and Progress
2016 Priorities and Progress
2015 Priorities and Progress
2014 Priorities and Progress
2013 Priorities and Progress
"...it's great that [MCPS is] serving healthier types of pizza, hamburgers, etc., but I want my kids to be excited about delicious and nutritious meals that don't fall into one of these junk food categories. At home, we serve home-cooked meals almost exclusively, but we'd like that message to be reinforced at school also."
- Brad Behr, MCPS Parent

"I teach high school and the students are begging for healthier choices--especially the kids who receive free and reduced meals. Their options are limited."
- An MCPS teacher
"Please no more chicken nuggets, pizza, fries and other junk foods. Positive peer pressure can help some kids open up to new, healthier foods. School is a good opportunity for that."
- An HSFM Supporter