This sold out event Friday, March 6, 2015 featured the screening of the documentary FED UP, with Q&A afterwards with our Director, Karen Devitt (left in picture below), Aviva Goldfarb, founder of the Six O'Clock Scramble (middle), and our Executive Director, Lindsey Parsons (right). The audience asked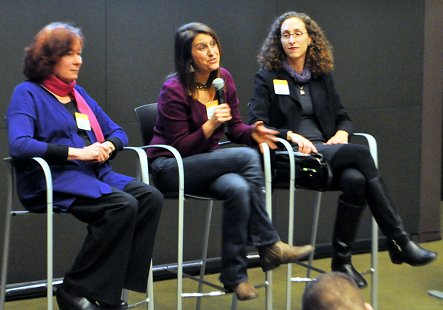 questions on the cost of cooking versus buying processed or fast food, dealing with unhealthy sports snacks, and moving to freshly prepared school meals. County Council President George Leventhal, State Delegate Jeff Waldstreicher and School Board Member Jill Ortman-Fouse all said a few words and shared about their efforts to bring healtheir school food to MCPS. Karen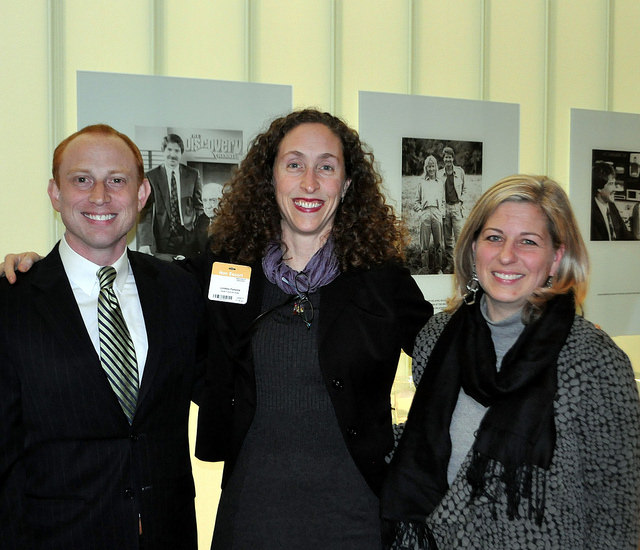 McManus of Congressman Chris Van Hollen's office also attended. All of this was followed by a beautiful wine and hors d'oeuvres reception catered by Whole Foods, featuring healthy, delicious options.
State Delegate Jeff Waldstreicher, HSFM Executive Director Lindsey Parsons, MCPS Board of Education Member, Jill Ortman-Fouse
Thanks to all who joined us, our generous sponsors, and Ed Kimmel, who took plenty of pictures, including the ones above. We hope to see you at our next event!
FED UP was produced by Katie Couric and Laurie David (Oscar-winning producer of "An Inconvenient Truth") and directed by Stephanie Soechtig. Described as "the movie the food industry doesn't want you to see", FED UP exposes the truth behind one of the largest health epidemics in US history and promises to change the way you eat forever.
"There are many low-income families who rely on MCPS to provide up to two meals per day to their children. We need to provide them with healthy, nutritious food to help them avoid childhood obesity and to provide the best nutrients for their learning. Please help to limit their sugar intake by reducing a la carte choices that are high in added sugar."
- an HSFM supporter