On Saturday May 18, 2013, Real Food for Kids - Montgomery held its first recipe contest tasting event to create a healthy school lunch. Children, parents, chefs, educators and friends submitted their recipes, and five finalists (below) prepared and served their entries at the event, which was held at Piney Branch Elementary School in Takoma Park.
1st Place: Turkey Wrap with Mixed Vegetables, Apple and Popcorn - recipe
Chef: Marina Bowsher
2nd Place: Whole Wheat Pita Bread, Hummus, Apple and Classy Kale & Brussels Sprouts Salad - recipe
Chefs: Rebecca Letsinger (6th grade) and Nancy Letsinger
3rd Place: Happy Bean Pancake with Mango - recipe
Chefs: Josie James-Le (5th grade) and Cait James
MC Old Bay Fish Soft Whole Grain Corn Tacos with Tropical Fruit Salsa, Crunchy Spinach Salad with Cilantro Lime Yogurt Dressing and Garden Patch Quinoa - recipe
Chef: Diane Ganci
Kale, Bean and Fruit Pita Pockets - recipe
Chef: Aura Triana
The top five finalists were selected by a panel of expert judges:
Marla Caplon, Director, Division of Food & Nutrition Services, Montgomery County Public Schools Cesare Lanfranconi, Executive Chef, Lia's, Chevy Chase Sheila Crye, Co-Facilitator, Healthy Eating Working Group, Montgomery County Food Council Drew Faulkner, Chef and Culinary Educator Kristen Daugherity, Nutrition Educator, Wootton High but the final judging was done by the kids who voted thumbs up, thumbs down or in the middle to select the top three meals.
Cash prizes and gift cards (1st prize: $75 cash + $75 gift card to the Takoma Park Silver Spring Co-op + $50 gift card to Whole Foods Market, 2nd prize: $75 cash + $50 gift card to Whole Foods Market, and 3rd prize: $60 gift card to Dawson's Market + $25 gift card to Costco) were awarded to the top three winners and cookbooks to the 2 runners-up.

Fun and educational activities were provided to educate kids about good nutrition.
Food Trivia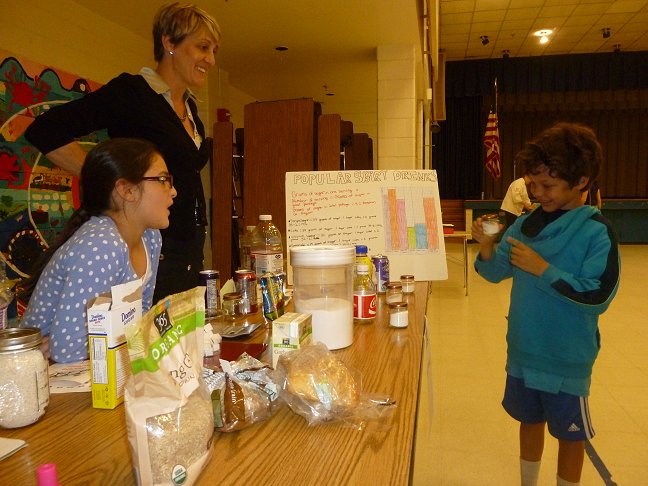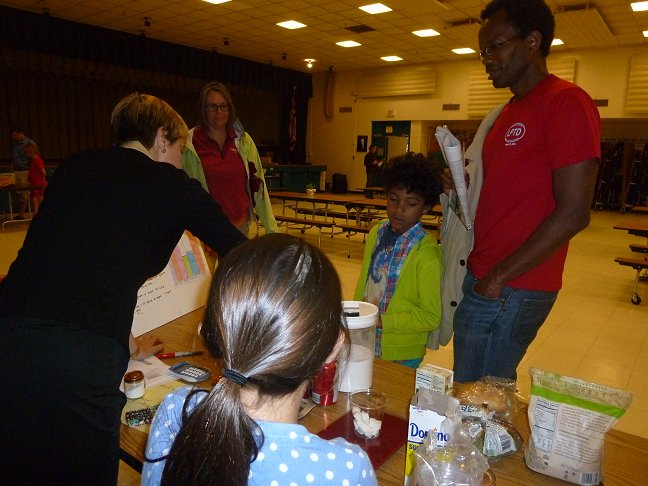 Marla Caplon, Director of the Division of Food and Nutrition Services for the Montgomery County Public Schools (MCPS), who served as one of the judges, joined us for the event and expressed particular interest in the possibility of serving the Classy Kale & Brussels Sprouts Salad in the Montgomery County Public Schools. Amazingly, only one of the 26 children who voted on this incredibly healthy yet unfamiliar dish gave it a thumbs down, with 15 giving it a thumbs up and the rest in the middle. Recipes for all the winning lunches will be submitted to MCPS for their consideration.
We were also joined by Shruti Bhatnagar, the Blair Cluster Coordinator for the PTA, who was very enthusiastic about our work and future collaboration with the PTA. Our thanks go out to all the chef participants, sponsors and volunteers who made this event a great success.
Download recipe contest guidelines and entry form.
Download Spanish version of recipe contest flyer.
Thanks to our recipe contest sponsors:
The City of Takoma Park Small Grants Program
Costco - Wheaton
Dawson's Market
Gateway Title & Escrow
The Honeybee Group, LLC
Russell Rifkin
The Six O'Clock Scramble
Solutions Electric
The Takoma Park Silver Spring Co-op
Universal Printing
Guess What Food?